The Moravian Historical Society
Your Place to Discover History
The Moravian Historical Society has preserved the story of Moravian history, architecture, art, music, and culture since 1857. Located on the historic Ephrata Tract in Nazareth, Pennsylvania, we maintain the 1740/1743 Whitefield House and the 1740 Gray Cottage, the oldest surviving Moravian structure in North America. We care for 20,000 objects, photographs, and documents and these primary sources help connect students, scholars, and the public to the stories of our past.
Guests are able to view:
The earliest known violin produced in America

Paintings by the Moravian artist John Valentine Haidt

A pipe organ made by early America's premier organ-builder, David Tannenberg

An1850s Martin guitar

A lock of George Washington's hair and much more!​​
Friday, March 27, 6 p.m.
at the Historic Hotel Bethlehem
Two Part Invention, an ensemble made up of Nora Suggs, flute, and John Arnold, guitar will perform "Morning Star–Music in Moravian America" on Saturday, February 8 at 3 p.m. in the historic 1740-1743 Whitefield House Museum.

The intimate and historic setting of the Whitefield House Museum will help re-create the ambiance of the original performances of the music on the program.
​
Tickets are $10; $5 with student ID; free for Moravian Historical Society members. Limited seating; reservations recommended.
​
​
​
​
​
​
​
​
​
​
This event is sponsored, in part, by the Martin Guitar Charitable Foundation and the Northampton County Department of Community and Economic Development through their Hotel Tax Grant program.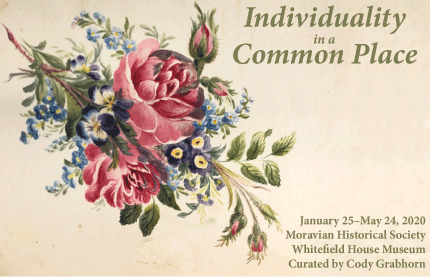 This exhibit explores the ways in which girls expressed their individuality in nuanced ways through three mediums—music, art, and writing. Visitors can explore women's expression of individuality through objects from the Moravian Historical Society's collection including rare primary source documents, diaries, personal papers, visual art, and musical instruments.
​
Opening Talk and Reception:
Saturday, January 25 at 3 p.m.
​